Written by IT News on 2:55 AM
Search and surf the web without leaving traces on your computer.
Browzar is based on the Internet Explorer engine, which means it's such a small file that it only takes seconds to download. We've made it disposable; so you have the choice of keeping Browzar on your PC, or downloading it each time you need to protect your privacy. You don't even need to install it: with Browzar you just click and go...
No embarrassing search auto-complete
No installation. Just click 'run' and go
No registration required
Browzar which is a fully free browser, guarantees browsing privacy as it doesn't save any cache, history, cookies and does not use the auto-complete feature. It is available for PC, Mac and Linux computers and it can be downloaded in seconds (even on dial-up) and doesn't need an installation to run. It can be even placed on a USB memory stick and run directly from there "as is". Interface-wise, Browzar has a cool slick look and it is available in two different themes.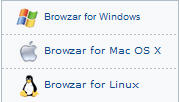 In the wake of AOL publishing the search histories of 685,000 of its customers, and the increasingly draconian measures taken by governments and corporations alike to monitor internet use, Browzar comes as a breath of fresh air, designed to protect your personal privacy as you surf the web. As a matter of fact, there is currently no easy way of anonymously surfing the web that is as simple as Browzar.

All standard internet browsers out there store by default all information about which websites you have gone to and which search queries you have run on any major (or minor) search engine. On the other hand Browzar does not record the web address or web cache for any website you visit, and there is therefore no history of your web trails after you stop surfing. Temporary files are deleted whilst you are surfing the web, and cookies are deleted at the point you close Browzar.


No Comment
| Posted in »
Announcements
,
Anonymous
,
browser
,
Browzar